The Indian automobile industry is the fifth largest in the world, it's projected to become the third largest by 2030 as per IESA (India Energy Storage Alliance).
Printed Circuit Boards are at the core of every electronic device. Roots services include Concept to Product, generating Gerber data & output files required for manufacturing bare boards. We use advanced tools such as FAB 3000.
Our capability includes designing multilayer PCB up to 48 layers with 4mil trace & 0.5mm pitch.
We provide customized designs for Products in Automotive diversification.
Our experienced technical team enables us to offer highly effective value-added engineering support with process definition as follows.
DFM (Design for Manufacturability)
DFT (Design for Test)
DFS (Design for Services)
ESS (Environmental Stress Screening)
EMI (Electro Magnetic Interference)
EMC (Electro Magnetic Compatibility)
HALT (Highly Accelerated Life Test)
HASS (Highly Accelerated Stress Screening)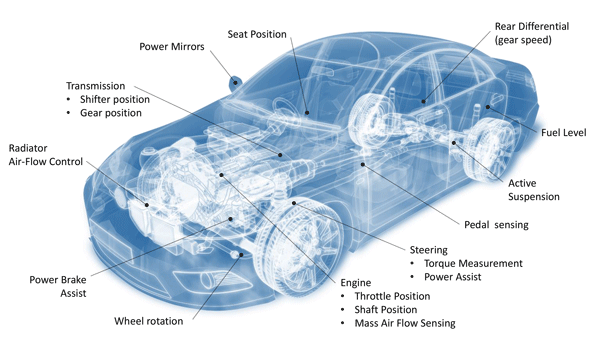 Our Prototype Services give benefits to reduced time to market through several innovative measures.
We adopt concurrent engineering programs & quality processes to ensure a smooth transition from protos to bulk production.
Major automotive OEMs always partner with Roots Industries for quality-driven performances. We employ the latest Japanese & German technology to ensure PCBA services of the highest quality.
Why Choose ROOTS PCB Assembly Solutions for the Automotive Industry
52+ years of leadership in Automotive Electrical & Electronics Products
Cost Effective Design
QMS & Spector Specific standards like ESD S20.20 & IPC 610 certified
Our Electronics R&D center specializes in Digital & Power Electronics with 25+ skilled experience engineers in Hardware and Software design
High Production Flexibility as per Customer need
Value Added Services
Automotive PCBA Applications
ADAS (Advanced Driver Assistance System)
Automotive LED Headlight
BMS (Battery Management System)
Body & Convenience Support
Chassis and Safety Products
e-Mobility
Infotainment
EV (Electric Vehicle & HEV (Hybrid Electric Vehicle)
EV Charging Stations
MCU & VCU
Power modules
Power train